Each month a letter from the College Chair will be published here to regularly communicate their work to the Order and Movement, as well as a link to the latest College Newsletter and the blog page on The Buddhist Centre Online.
Ordinations within the Triratna Order take place throughout the year and world: the UK, Spain, India, Australia, New Zealand and the US, all have ordinations taking place regularly. This section also lists who's been ordained recently, where they've been ordained, and what their new name means.
The College consists of 44 members, with retirements and new appointments on an annual basis. When a new member joins the College, we'll introduce them here.
Lastly, there is a section for remembrance of College members who have passed away.
LETTERS FROM THE CHAIR – JANUARY 2021
These letters are published here each month, as well as on The Buddhist Centre Online, and in Shabda, the Order newsletter, as a means to communicate the ongoing work of the College Chair and updates on current discussions and decisions. Responses are welcomed. Click to follow the Preceptors' College on The Buddhist Centre online and view January's 'Features from the College' .
Dear Order members
I've appreciated being able to work as a team with deputies from as far afield as New Zealand (Ratnavyuha) and India (Amrutdeep) as well as with Punyamala (Sheffield) and Jnanavaca (LBC) within the UK. I appreciated Ratnavyuha's theme of unity / diversity last month, and look forward to contributions from the others. (You can read Ratnavyuha's December letter at thebuddhistcentre.com/preceptors) 
My last update was about the (online) College meeting in November. Since then, like many of us, I've been monitoring the Covid-19 situation and the US election (I happened to be watching the news as Capitol Hill was stormed); and continuing with the bodhicitta practice. 
With so much communication taking place online, I've been spending even more time than usual on my computer. I tried to cut down on screen time over the UK holiday period, and have been fortunate in having easy access to the countryside during lockdowns. 
I'm also fortunate to be spending time at Adhisthana, where life on site has continued pretty much as before, although with fewer excursions and very few physical guests but many more online visitors. The two communities have grown in strength during this time, and it's been good to welcome Ksantikara, the new Young Buddhists coordinator, and Patrick, who will be ranging from online tech to maintenance.
The two newcomers emerged from quarantine in time to join a week of community days in January. I'd been slightly resisting being dragged away from my inbox, but once I'd made the break from my computer I thoroughly enjoyed the experience of being physically on retreat with the others. Saddhanandi and Saddhaloka had crafted a programme that explored our collective life and responsibilities at Adhisthana; from custom-made pizza and life stories, to discussion of the single-sex 'idea' and study on 'Duties of Brotherhood in Islam'. 
Dhammarati, Ksantikara and I had been asked to kick off the single-sex discussion, and Dhammarati and I had independently come across the Saññoga Sutta (AN 7:48) on Bondage. Mostly we all talked from our own experience, and the discussion was honest and harmonious. It's a topic that comes up from time to time as we work out how best to support the single-sex element of the two communities, as well as the harmony of the overall common project. Two days of more meditation and study led by Dhammarati was welcome, and the material in Bhante's seminar well worth attention.
A lot of work has been taking place at Adhisthana during lockdown, including the transformation of Bhante's Urgyen House, and it will be wonderful to be able to welcome everyone here again when that becomes possible. 
I'm aware that many Public Preceptors have been working overtime to give people the best possible conditions for entering the Order, within these continually changing restrictions. Rescheduling an ordination retreat is a mammoth task of juggling preceptors, ordinands, and retreat venues. 
I'm also aware that many people who have been invited to be ordained are having to hang loose to when and where they may be ordained. I hope they are finding ways to make the most of this extended bardo, and I'd like to assure them that every ordination and ordination retreat is special. I remember an ordination retreat at Tiratanaloka when we had three ordination kutis in play, and people following the light path to their private ordination were nonplussed when it led them to the garage, which was a bit of a Tardis on that occasion. We look forward to you joining the Order and joining with us in transforming ourselves and the seemingly increasingly mad world we live in.
With Metta,
Ratnadharini
The College is delighted to announce that the following men and women have been ordained: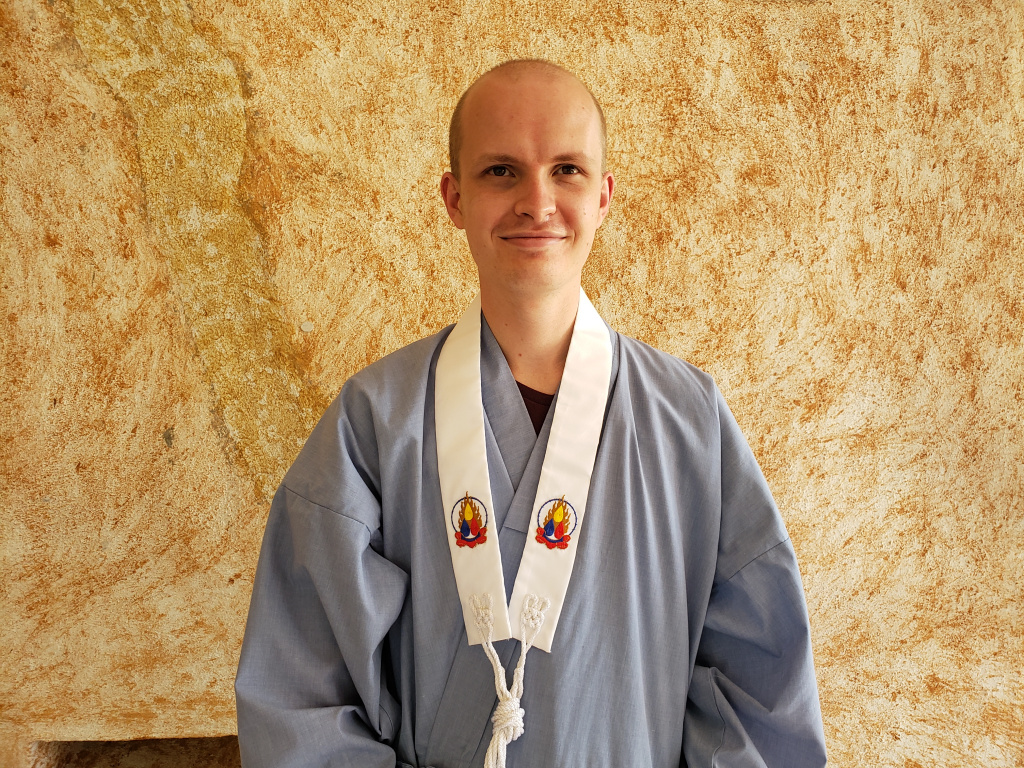 I am delighted to announce that ex-Paul Klein of Cuernavaca, Mexico was publicly ordained on Saturday, January 16 and given the name Moksharati, he who delights in liberation.
Read More
His Public Preceptor is Virasiddhi and his Private Preceptor is Nagapriya.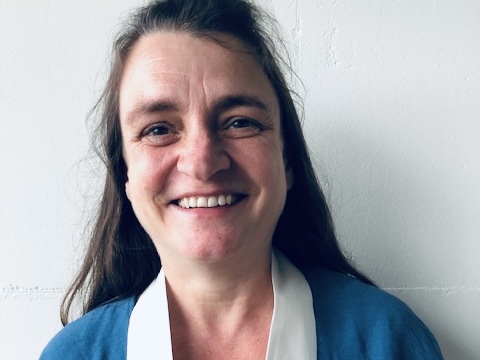 On November 2, ex-Sandra Lanckman from the Ghent Sangha, Belgium, was publicly ordained at Metta Vihara.
Read More
Sandra becomes Maitrivirya (long second and third 'i', long final 'a') a Sanskrit name meaning 'she who has the energy of love'
Tarini was the Private Preceptor and Kulanandi the Public Preceptor
Sadhu!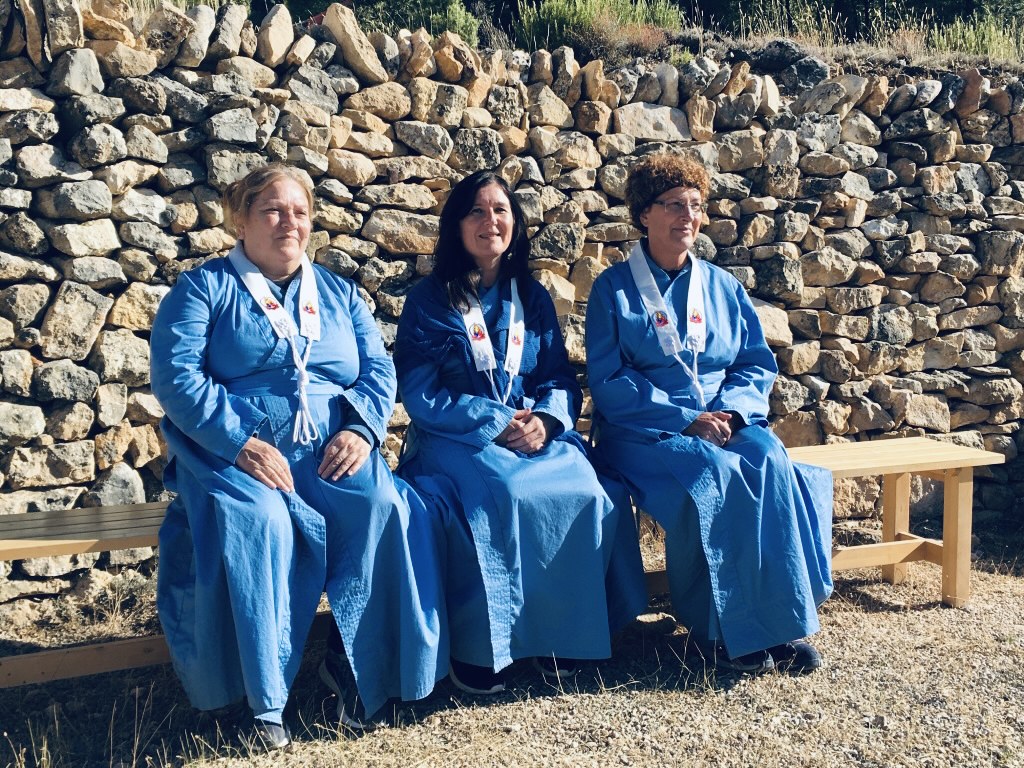 We are delighted to announce that three new Dharmacharinis were ordained at Akashavana, Spain, on 16th October 2020.
Read More
Monica Tamarit becomes Kavyadhi (long first 'a' and long 'i') – a Sanskrit name that means 'She whose wisdom is inspired, creative and poetic'.
Private Preceptor: Saddhakara
Carmina Amaya becomes Bhavati (long first 'a') – a Sanskrit name that means 'She who is full of light'.
Private Preceptor: Saddhakara
Reme Rojo becomes Suriyadassana (long last 'a') – a Pali name that means 'She who has sun-like vision or insight'.
Private Preceptor: Vidyasri
The Public Preceptor was Paramachitta.
Sadhu, Sadhu, Sadhu!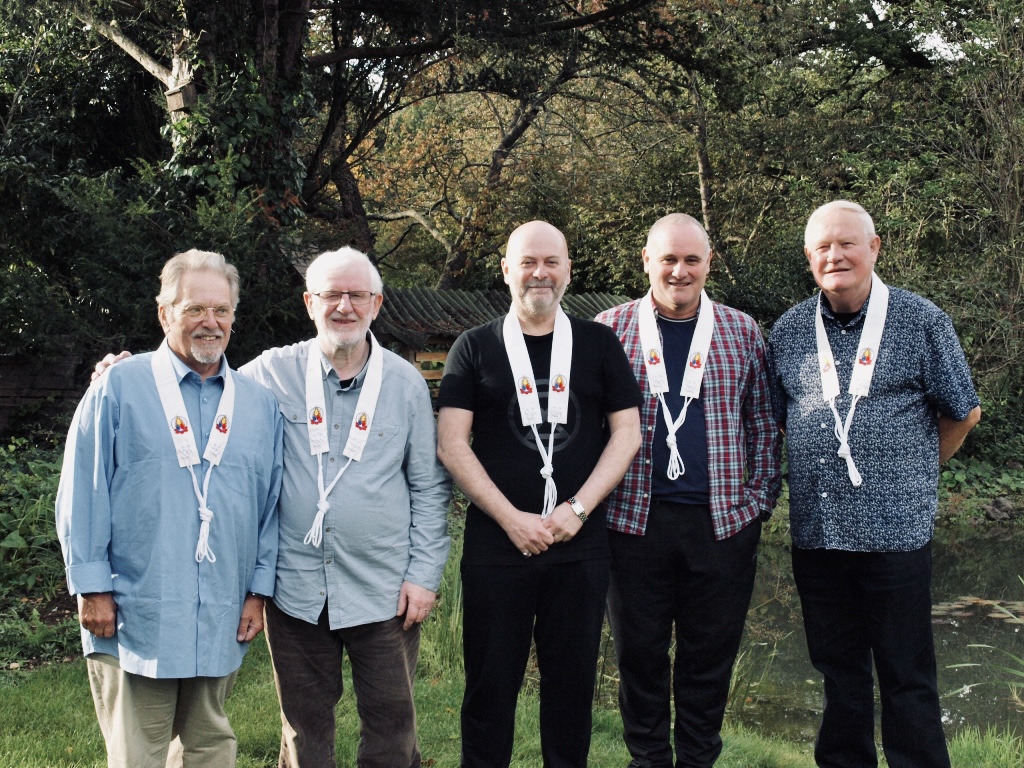 Five new Dharmacharis were ordained at Padmaloka, UK, on 1st October 2020, on the first retreat there since the pandemic began.
Read More
Public preceptor: Satyaraja
Alex Stirling becomes Shraddhavadin
(long second and third a)
He who communicates confidence in the Dharma
Private preceptor: Mahashraddha
Clive Fletcher becomes Karunadhara
( long second and third a)
He who is a bearer of compassion
Private preceptor: Danapriya
Mike Whittham becomes Kshantabandhu
He who is a patient friend
Private preceptor: Buddhashanti
Michael Proctor becomes Buddhasamagama
(long third a)
He who is with the Buddhas
Private preceptor: Mahashraddha
Public Preceptor: Padmavajra
Chris Petts becomes Akashahrdaya
(long first and second a)
He whose heart is like open space
Private preceptor: Harshaprabha
Sadhu, sadhu, sadhu!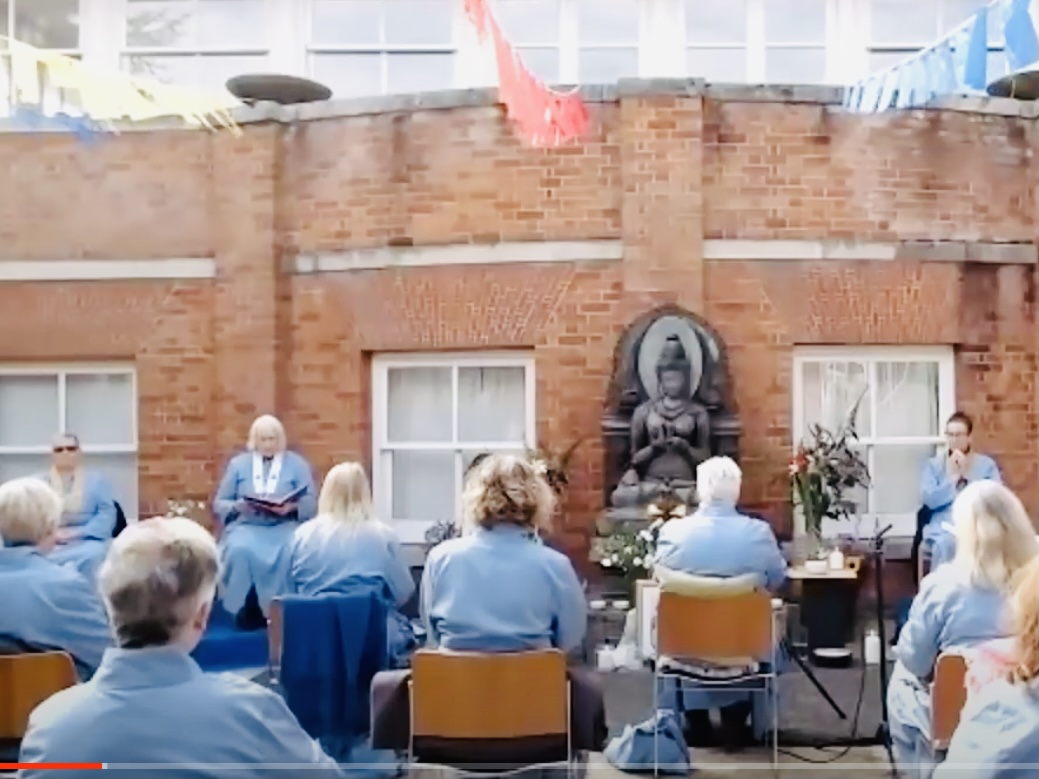 16 women were publicly ordained at Adhisthana, UK,  on Monday 28th September 2020, during a ceremony held outdoors in the Prajnaparamita courtyard.
Read More
Public preceptor: Santavajri
Ng Yin Wan becomes Maitrigandhi (long second i)
A Sanskrit name meaning One who is fragrant with loving kindness
Westernised (Shabda) spelling: Maitrigandhi
Private preceptor: Khemasiddhi
Genny Whiting becomes Vandanacitta (long final a)
A Sanskrit name meaning She who has a heart of devotion
Westernised (Shabda) spelling: Vandanachitta
Private preceptor: Vanaraji
Michelle Healey becomes Maitrijyoti (long second i)
A Sanskrit name meaning She who is or has the light of love
Westernised (Shabda) spelling: Maitrijyoti
Private preceptor: Satyalila
Carolyn Drake becomes Karunahrdaya (dot under n, long second and final a, dot under second r)
A Sanskrit name meaning She who has a heart of compassion
Westernised (Shabda) spelling: Karunahridaya
Private preceptor: Sucimani
Rebecca Harvey becomes Vijayacitta (long final a)
A Sanskrit name meaning One whose (heart-)mind is victorious
Westernised (Shabda) spelling: Vijayacitta
Private preceptor: Jyotismati
Clare Rodger becomes Aksayadhi (dot under s, long final i)
A Sanskrit name meaning She whose wisdom is indestructible
Westernised (Shabda) spelling: Akshayadhi
Private preceptor: Candraprabha
Jackie Cooley becomes Abhayalila (long i, long final a)
A Sanskrit name meaning One whose play is fearless
Westernised (Shabda) spelling: Abhayalila
Private preceptor: Shraddhamayi
Cathy Brazier becomes Bodhivasini (long a, long final i)
A Sanskrit/Pali name meaning She who dwells in Awakening
Westernised (Shabda) spelling: Bodhivasini
Private preceptor: Punyamala
Public preceptor: Punyamala
Gill Parry becomes Karunasuri (dot under n, long second a, accent above s, long final u, long i)
A Sanskrit name meaning Heroine of Compassion
Westernised (Shabda) spelling: Karunashuri
Private preceptor: Taravandana
Anne Williams becomes Amalavasini (long final a, long final i)
A Sanskrit name meaning She who lives with purity
Westernised (Shabda) spelling: Amalavasini
Private preceptor: Varasahaya
Public preceptor: Parami
Karen McLaughlin becomes Maitrivasini (long second i, long second a, long final i)
A Sanskrit name meaning She who dwells in/is perfumed with kindness
Westernised (Shabda) spelling: Maitrivasini
Private preceptor: Moksavajri
Sheena Davis becomes Nagarani (long first a, long third a, dot under n, long i)
A Sanskrit name meaning Queen of the nagas
Westernised (Shabda) spelling: Nagarani
Private preceptor: Shubha
Jen Harvey becomes Tejasara (long second a, long final a)
A Pali name meaning One whose heart is on fire
Westernised (Shabda) spelling: Tejasara
Private preceptor: Vandanajyoti
Rosy Laslett becomes Khemini (long final i)
A Pali name meaning She who enjoys peace and security
Westernised (Shabda) spelling: Khemini
Private preceptor: Dhammadassin
Sandy Staplehurst becomes Suvannasiha (dot under both 'n's, long i, long final a)
A Pali name meaning She who is like a golden lion
Westernised (Shabda) spelling: Suvannasiha
Private preceptor: Shantasiddhi
Sally Bridgeman becomes Gambhiradhi (long first i, long final i)
A Sanskrit name meaning She in whom wisdom is deep and profound
Westernised (Shabda) spelling: Gambhiradhi
Private preceptor: Khemasiddhi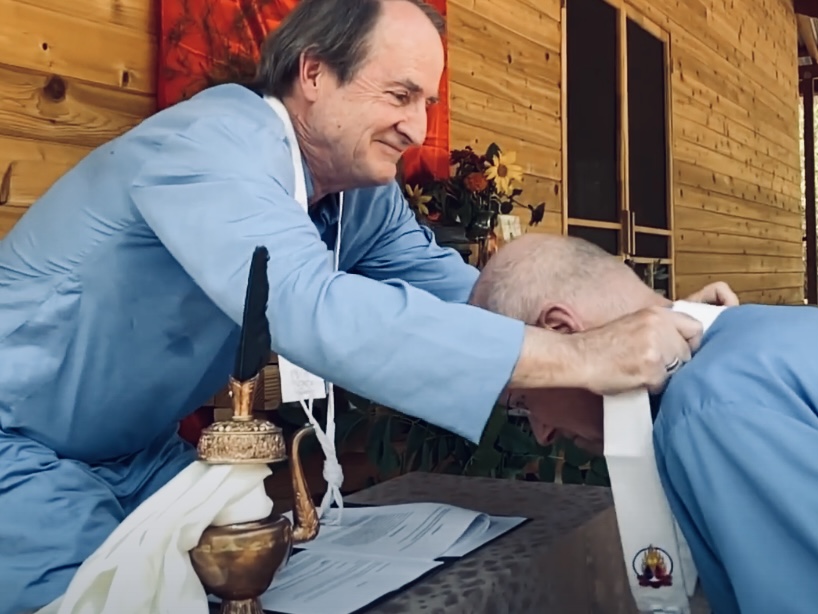 We are very happy to announce the public ordination of ex-Rob Devney of Seattle at the Dharmadhara Retreat Center, USA, on 20 September 2020.
Read More
Rob becomes Siladhara (long 'i' as in 'police,' third 'a' as in 'father'), a Pali name meaning "He who upholds ethical practice."
Registered spelling is Siladhara.
Viradhamma was both Private and Public Preceptor.
The College is delighted to announce that the following have recently become members of the College.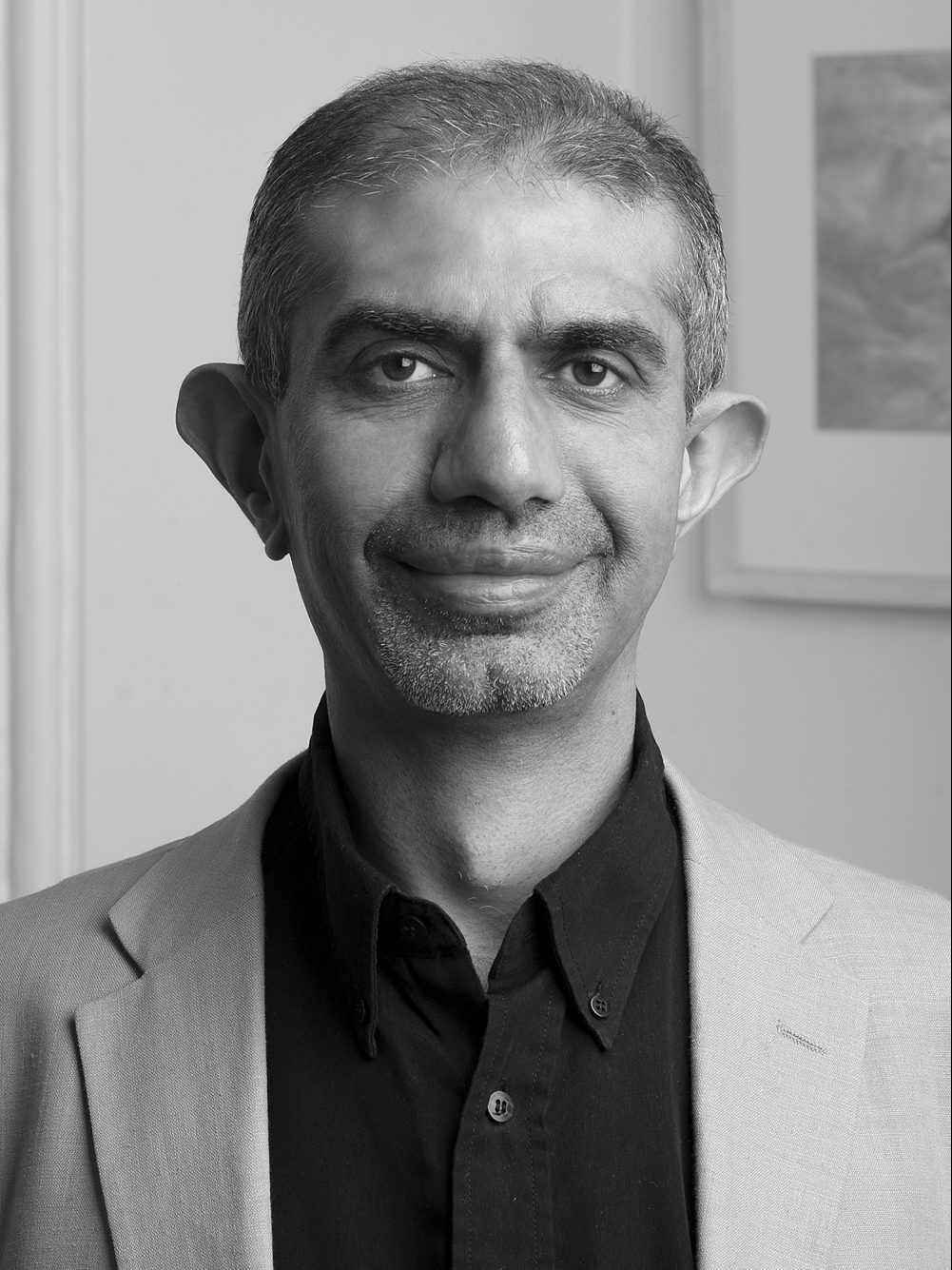 Read More
I was born in Mombasa, Kenya in 1965 to Indian parents. I have no real memories of Africa as we moved to London when I was two.  The sudden death of my father when I was eleven accelerated my questioning about the meaning of life, and in my early teens I decided I was a Buddhist. However I had almost no idea of what Buddhism was apart from what I had gleaned from a few popular books on Zen.
I studied physics at University – looking for answers to the big questions. I also tried to practise with a Zen group while I was a student – mostly trying to be mindful and have a routine in my life.  I soon realised that physics wasn't going to provide me with the answers I was looking for, and my attempts to practice Zen Buddhism left me disheartened and feeling that I lacked the determination and discipline that was needed.  After graduating, I decided that my spiritual questioning was going nowhere and that I should get a 'real' job. So I ended up working for Marks and Spencer in their I.T. department. I can remember feeling lost and disillusioned and that I'd betrayed my ideals.
It wasn't until 1994 when I was 28 that I came across the London Buddhist Centre and it was after my first retreat the Christmas of that year (led by Maitreyabandhu and Ratnadharini) that I realised that the Dharma was something I could really practise. 
Soon after I moved into one of the LBC communities started by Maitreyabandhu and Paramabandhu (where I have lived ever since).  I started working for the LBC in 1998 as a (not very good) fundraiser having finally found the courage to leave my job in the corporate world.  I was ordained in 1999 by Subhuti at the Bordharan retreat centre near Nagpur, India. It felt completely right at a mythic level to be ordained in India and to have my public ordination fall on the anniversary of my father's death twenty-two years previously.
Back at the LBC I took on being the Treasurer and a few years later, the men's Mitra Convenor. For nine years from 2009 I was the Chair of the LBC which was both demanding and fulfilling – particularly the phase during the building of the new Vajrasana retreat centre.  I handed on that role to Suryagupta in 2018 and shortly afterwards went on a 6 month solitary retreat – possibly the happiest period of my life.  I am President of the Cambridge Centre and am currently co-writing a book with Maitreyabandhu on 'Insight in our System of Practice'.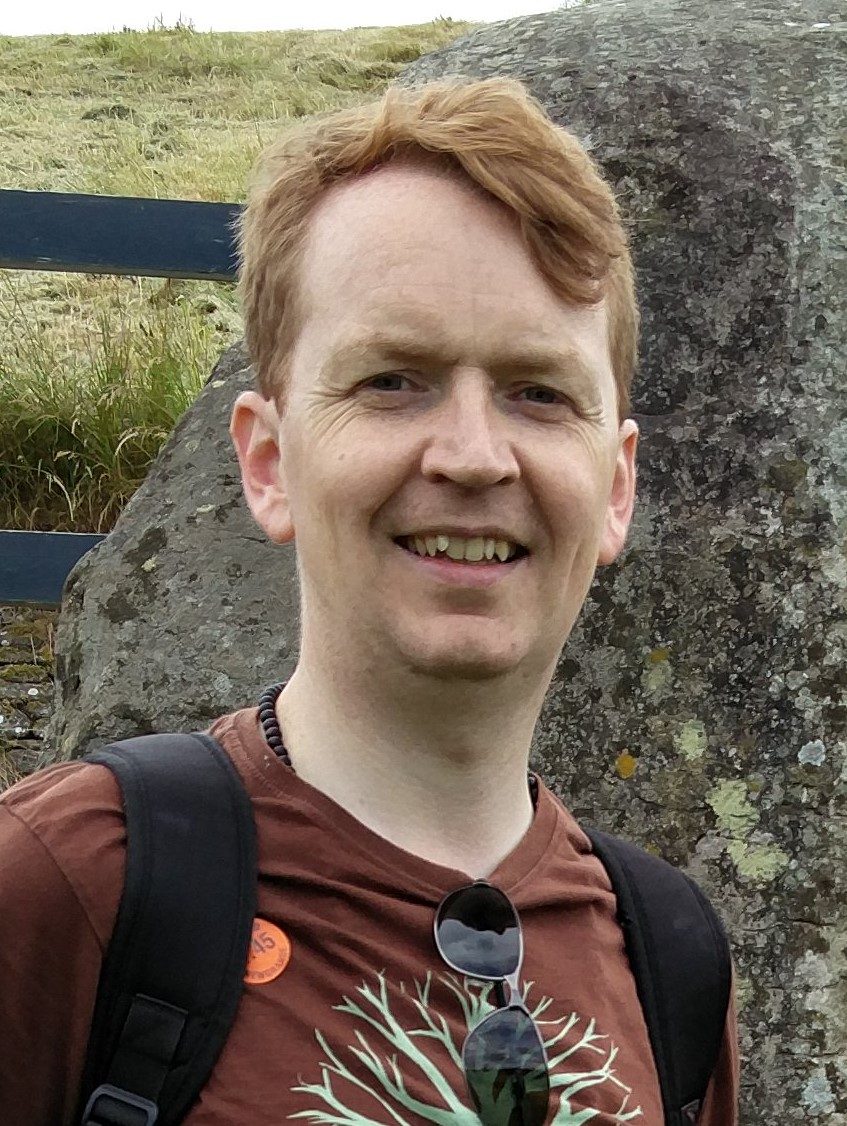 Vajrashura
Dublin, Ireland
Read More
I first came across Triratna (then the FWBO) in Dublin, Ireland, in 1999, at the age of 22. After being convinced by a friend, I learned meditation from Ratnabandhu of the Dublin Meditation Centre and really enjoyed it. A little while later I realised I was a Buddhist, and that without some deeper meaning in my life I would continue to live existentially adrift and feel unfulfilled. I was particularly struck by the clarity of Bhante's expression of the Dharma. I was finishing my studies in Theoretical Physics in Trinity College Dublin, but decided to leave my Ph.D. unfinished and look for something more meaningful.
In 2002, I had a very significant time participating in a Karuṇā door-knocking appeal in London, and once back in Dublin I became a Mitra and asked for ordination, started working for the Dublin Buddhist Centre as Centre Manager, and moved into a new men's residential community.
I very much enjoyed the ordination process and was ordained in 2007 in Guhyaloka, my Private Preceptor being Kulananda and my Public Preceptor being Saddhaloka.
In 2009, I became the Men's Mitra Convenor for Dublin, a role I have loved doing and still do to this day. It's a very pure experience of being able to help people to connect with and grow in the Dharma, and the friendships that are formed are meaningful indeed. In 2018, I became a Private Preceptor, and I continue to work closely with the ordination team in Padmaloka to help men in Ireland prepare for ordination.
I recently started working for the Sikkha Project on a part-time basis. I still live in a men's community and enjoy that very much. I am happy to be part of the College so that I can support the continued development and growth of the Triratna Sangha, particularly in Ireland.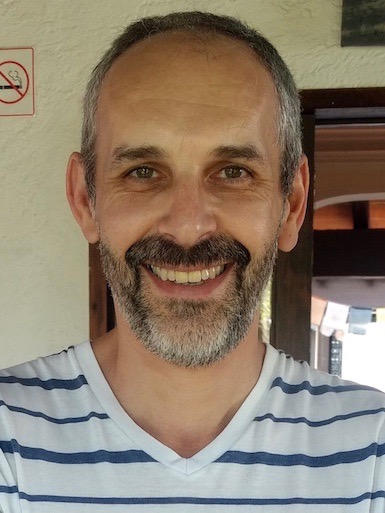 Nagapriya 
Cuernavaca, Mexico
Read More
I first met Triratna in Leeds, England in 1988.  I was studying for a degree in philosophy and was, so it seems now, searching for the meaning of life. I quickly realized that I had found my spiritual home and, after moving to Manchester, I was ordained in 1992. I worked for some years at the Manchester Buddhist Centre and then at Dharmavastu Study Centre.
After a period of academic study and work, I moved to Mexico in 2013 and, somewhat inadvertently, co-founded Centro Budista de Cuernavaca of which I am current and founding Chair. I also ended up as the director of Editorial Dharmamegha, a project dedicated to publishing Sangharakshita´s and other Triratna works in Spanish. I got involved in the men´s ordination process in Latin America shortly after arriving in Mexico and form part of the ordination team.
There is huge potential for Triratna in Latin America and I feel privileged to be able to contribute to this process in some small way. Mexico particularly seems a receptive field for the Dharma and our sangha here is growing rapidly.
My published works include: Exploring Karma and Rebirth (Windhorse, 2003), Visions of Mahayana Buddhism (Windhorse, 2009), and The Buddhist Way (New Holland, 2018).
Remembering former College Members who have died in recent years.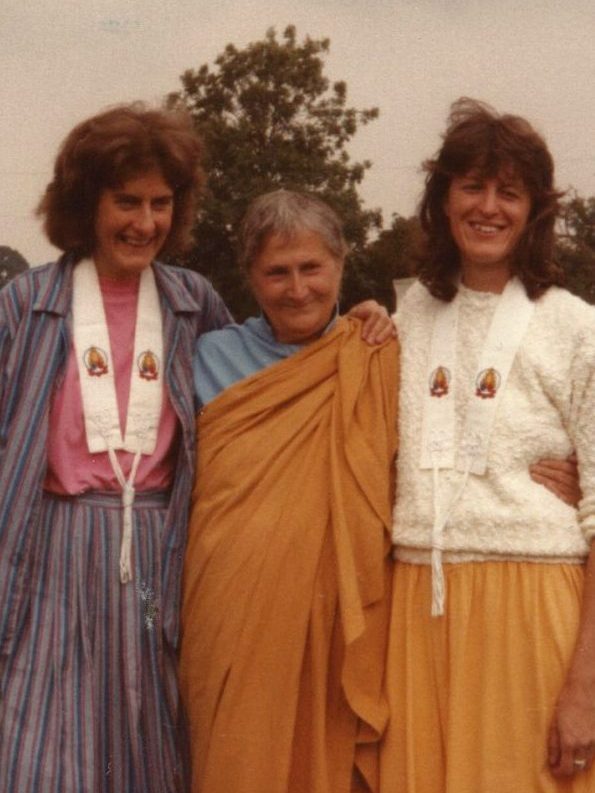 Dharmacharini Anagarika Ratnasuri
1 April 1923 – 13 September 2019
Read More
Ratnasuri was born on 1 April 1923, in Norwich, one of triplets. She and one sister survived – after a difficult start; they were so small they had to be fed by their parents with a dropper from a fountain pen. They joined a family that included a brother and another sister. Their father was a tailor. He made the family's clothes and they were always smartly dressed. Having such a talented father is perhaps where Ratnasuri's love of art and design started. At thirteen, she went to junior art school and enjoyed drawing, painting, dress design and poster design. At sixteen, she did an apprenticeship as a window dresser in a very smart Norwich department store, but any dreams of progression were abruptly halted by the outbreak of the Second World War in 1939. In 1942, at nineteen, she decided to join the war effort. She said later, "I really wanted to defeat Hitler!" Her boss at the department store was furious, but Ratnasuri had bigger concerns.
All who experienced the war witnessed the fragility of life, but perhaps especially those who saw conflict directly. Ratnasuri worked in the anti-aircraft battery guiding the guns and the men firing them. One night in Antwerp, after a frightening overhead air-raid, she set off to meet a boyfriend and found out he had been killed in a direct hit.
Ratnasuri was already looking for some deeper meaning to her life, but like many women she ended up getting married and settling down. Her marriage wasn't a happy one, but she did have two sons, Kevin and Peter, who she loved and cherished. She found employment doing quality control in a chocolate factory and as a lab technician for the Milk Marketing Board. The years passed and the children grew up.
In her mid-fifties, having left home, Ratnasuri took up yoga with Sona. Through him she started to read books about Buddhism. She also came across the magazine Mitrata, which was produced in Norwich by Srimala. Ratnasuri started attending classes at the Norwich Buddhist Centre. Typically, she threw herself into the sangha with youthful verve, even though, being in her fifties, she was regarded as 'old' by younger members. Eventually she was going to every class the centre offered! She worked with Aloka and other Order Members in the wholefood café, Rainbow, latterly Oranges. She had been involved for two years when she became a mitra. It was five years after first coming along to the Norwich Centre when, in 1983, she was ordained, alongside Ratnavandana and Ratnadakini. She was given the name Ratnasuri, which means 'Heroine of the Three Jewels'. At sixty, most people are thinking about retirement. Ratnasuri was just getting started!
After ordination, she lived and worked around the Croydon Buddhist Centre for a year. Then, in 1983, the women members of the Western Buddhist Order decided to hold a month-long intensive retreat on the Isle of Muck. There were just twenty women Order members at the time and they joked on the journey that if the ferry went down on the way to Muck, that would be it for the women's wing of the Order! Fortunately, it didn't. On the retreat Sanghadevi announced that she wanted to set up the FWBO's first women's retreat centre and wanted someone to go with her. Guess who put up their hand and volunteered?
So at sixty-two years old, Ratnasuri found herself going down the long, bumpy track to Cornhill Farm, Shropshire, now known as Taraloka. There were four women who were the founder members of the Taraloka community: Sanghadevi and Ratnasuri and the mitras who would become Karunasri and Kulanandi. The fifth member was Ratnasuri's cat, Tansy. It wasn't easy; they were pioneers, and pioneers in boiler suits and hard hats as well, having to undertake much of the restoration work on the old farm themselves. Ratnasuri cooked valiantly for everyone on a camping gas stove, frequently with bits of ceiling falling in the food! She also co-led many of the meditation retreats with Sanghadevi.
Not long after moving to Taraloka, Ratnasuri became an 'anagarika'. This meant following the example of the Buddha by committing oneself to a simple life where one does not pick and choose; and also taking vows of celibacy. At her ceremony she wore the orange robes that symbolically connect with the Buddha and his early followers, a tradition stretching back over 2,500 years.
But Ratnasuri's heroism didn't stop there. In 1987, while on retreat at Taraloka, Ratnasuri received a phone call from Srimala. She told her that Sangharakshita's mother was ill so he couldn't go to India to conduct ordinations as planned. Now he wanted to ask if Ratnasuri would go with her, Srimala, to India to conduct the first ordinations of Indian women along with Padmasuri, who was living there. Ratnasuri was startled, but she couldn't mention it to anyone. A retreatant commented to her, "Something happened to you on that retreat!" and she thought, "If only you knew!" Having never been to India before she was scared by the prospect and wondered how she would cope with speaking in front of so many people. But she told herself, "I get nervous speaking in front of five people, what difference does it make if there's five hundred?" So, aged sixty-four, she went to India to conduct the public ordinations of Jnanasuri and Vimalasuri. As an anagarika, she wore her orange robes for the ceremony, which would have been a powerful visual symbol about women's spiritual potential for the Indian community.
The ordinations of the women in India were conducted 'on behalf of' Sangharakshita. Two years later he asked three senior women Order members to perform ordinations acting now 'on their own responsibility' – a very significant development for the Order. Srimala, Sanghadevi and Ratnasuri were the first women private preceptors acting in this way. But it was Ratnasuri who was asked to perform the public ordinations. In summer 1989, on a retreat at Taraloka, she received into the Order Cittaprabha from Sydney. A few weeks later, on 11 September, another six women received their ordinations. These were historic events, not only for the Western Buddhist Order, but for the whole Buddhist world where full ordination of women – a lineage started by the Buddha himself – had long since largely died out. Because Sangharakshita was able to entrust her with this responsibility, and she was willing to take it on, Ratnasuri opened the door for a new ordination lineage of women ordaining women to come into being. She went on to ordain many more women into the Triratna Buddhist Order. As a preceptor she privately and publicly ordained 45 women in total, as well as being a kalyana mitra or friend to countless others.
Ratnasuri was a lover of meditation and as well as living in the community at Taraloka, she took part in many retreats held there. She was frequently the oldest in community situations, but her joie-de-vivre and youthful spirits belied that. During all this time, she maintained her love and inspiration for the arts. She was a poet and a photographer. She loved relaxing to classical music in her reclining chair. And she was a print-maker, making prints from her own woodcuts.As well as her passion for creativity, meditation and friendship, she was a lover of technology and could be seen at the Genius Bar of an Apple Store whenever she got a chance!
At the end of 2005, Ratnasuri had a huge shock. She was celebrating a birthday in the Taraloka community when she had a phone call to say that her son, Peter, had died. His death was a great loss to Ratnasuri. Previously, she had been suffering with anaemia and later confided that had she still been anaemic, the shock might have killed her. Characteristically she responded to old age and anaemia by taking up the Vajrayogini meditation practice because "I needed more blood" and to "let go more". She could be seen frequently at Order events manifesting the dakini energy on her pedal scooter!
In 2014, she made the decision to leave Taraloka, her home of nearly thirty years, and move into sheltered accommodation in nearby Wrexham. A retreat centre is a busy place to live and, aged ninety-one, she was ready for a quieter, more reflective life. She also relished the idea of shopping and cooking for herself, going about town, having adventures. Unfortunately, her eyesight was deteriorating quite rapidly due to macular degeneration, so she couldn't be as independent as she would have liked. One of the hardest things about sight loss, she said, was not being able to see the faces of her friends.
In 2019, it became clear that independent living was no longer viable for Ratnasuri, even though her friends, carers and the Taraloka community had helped considerably. With their help, she moved into a residential home in Wrexham with her beloved budgies, who gave her so much joy.
'Ratna' means jewel and Ratnasuri was a kind, generous, creative and multi-faceted person. 'Suri,' means heroine: she broke down barriers of what it means to be a woman Buddhist in the west and what it means to practise the Dharma in mid to old age.
She leaves behind an Order with a flourishing women's wing, and a lineage of women's ordinations that she helped inaugurate. She leaves behind many devoted friends and admirers, and her son Kevin. She will be sadly missed.
Dharmacharini Kamalagita, 17/09/19
MEETING SUMMARIES + MINUTES