Each month a letter from the College Chair will be published here to regularly communicate their work to the Order and Movement, as well as a link to the latest College Newsletter and the blog page on The Buddhist Centre Online.
Ordinations within the Triratna Order take place throughout the year and world: the UK, Spain, India, Australia, New Zealand and the US, all have ordinations taking place regularly. This section also lists who's been ordained recently, where they've been ordained, and what their new name means.
The College consists of 44 members, with retirements and new appointments on an annual basis. When a new member joins the College, we'll introduce them here.
Lastly, there is a section for remembrance of College members who have passed away.
LETTER FROM THE CHAIR – MARCH 2020
Dear Order members,
I have just been part of witnessing the ordination of Varadhi in Melbourne, on Zoom, along with 106 others. Watching the communication between Maitripala, as Public Preceptor, and Itir / Varadhi, with the Buddha, Avalokitesvara, and Bhante between them, was a strong reminder that the Dharma is a communication rooted in the wisdom and compassion of the Buddha. Especially vivid at this particular time when we are all so much more aware of the uncertainty and dukkha inherent in life.
As Covid-19 began to impact on the world more and more, and the need for restrictions grew, Centre after Centre closed their doors and it became apparent that the long ordination retreats at Akashavana and Guhyaloka would not be able to go ahead. It would have been impossible for most people to be out of contact with family and friends at this time, and I think most felt a degree of relief at the news. It will be an adjustment for those whose ordinations have been postponed, but I'm sure they will continue to Go for Refuge more and more effectively.
Two particular ordinations however needed to go ahead. Gus Miller was not ordained at Guhyaloka last year, as it was not possible for three men from the LBC team to be away for the same four months. Fortunately his private and public preceptors live close by and have worked out a way to manage his ordination – which will hopefully be live-streamed. Itir Binay's ordination had been due to take place at Akashavana, but as her private preceptor was not going to be able to make the journey, the private ceremony had already taken place in Australia. It was her public ordination that just took place in Melbourne, and the recording of the ceremony has been shared online.
The world has changed; or has it? Covid-19 is having a massive effect on our lives and society, and more is yet to come. It's a particular kind of a shock to those of us in relatively stable circumstances, who so easily take for granted health, financial security, and the freedom to go where we want. We tend to assume disasters happen to other people and in other places, but when they happen closer to home, to us, or our nearest and dearest, impermanence is suddenly no longer theoretical. My experience in the UK was that all that changed over the course of a few days, and it's a big wake up call. As well as insecurity, fear and anxiety, there are instances of love and generosity that demonstrate the potential for an alternative reality, and we can be part of encouraging that mode in ourselves, between us, and all around.
In this March letter, I had been going to mention a sequence of retreats at Adhisthana, including a women preceptors' retreat, and a gathering of UK & Ireland College kulas; both delightfully positive and harmonious. I was going to write about the joy of exploring with other women preceptors the significance of ordination under four headings: the responsibility of being a preceptor; the archetypal guru and the 10 precepts; transformation, purification and beauty in the ordination ceremony; and discipleship as authentic communication. Also the satisfaction of days of meetings with other Public Preceptors, followed by intimate evenings listening to readings from Bhante; five of us talking about an aspect of their lives; poetry with Maitreyabandhu; rejoicing in Kamalashila, following his retirement from the College; and Jnanavaca on the Dharma and physics… 
Already by the end of the Area College meeting, the scale of the coming upheaval in the UK and Europe was becoming apparent. Some with further to travel had to leave early; Paramachitta just made it back to Valencia before restrictions were imposed. I left Adhisthana to help my 91-year-old mum prepare for isolation, and then on hearing someone at Adhisthana was now isolated with possible covid-19 systems, decided to retreat to my house in South Wales. Many people are facing isolation, financial insecurity, sickness, or death; so far I'm one of the fortunate ones. 
I'd like to rejoice in the opportunities made available to us via the Buddhist Centre Online. Candradasa and his team have been hard at work developing channels that mean a flow of relevant Dharma teaching and meditation instruction is available on a daily basis to people isolated at home, which will be a lifeline for many. Order members all over the world are contributing podcasts in several languages; Centres are moving their teaching and local sanghas online.
Today I received an email from an Order member in Spain, describing the stark situation there and wondering whether there was a way in which Order members could come together – virtually – for the Practice of the Arising of the Bodhicitta. It was such a great suggestion a few of us have decided to make it happen. So from tomorrow morning, and continuing for the next couple of months, we are inviting all Order members to join in with a live online practice, to connect us to each other and to our shared aspiration to be of benefit to all beings. To make it possible for any Order member worldwide to take part, the practice will be guided twice every Sunday for different time-zones. For more information about how to participate, visit the Order Stream on The Buddhist Centre Online, or see the message on the Order Information Service.
Ratnadharini
College Chair
The College is delighted to announce that the following men and women have been ordained: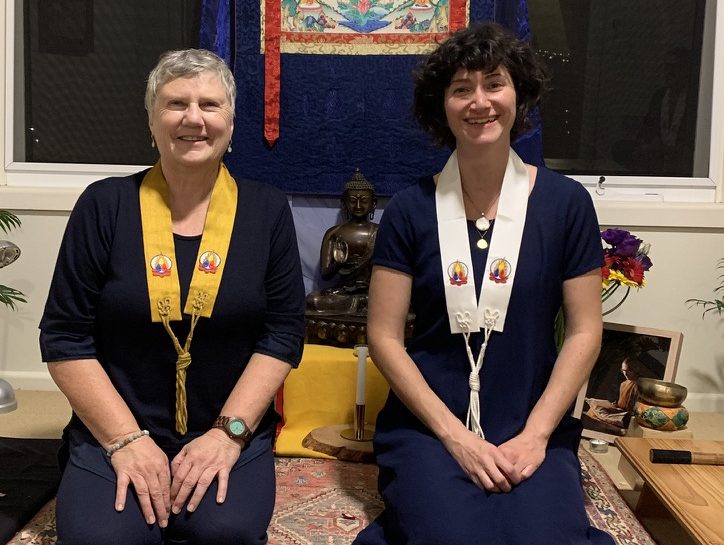 We are delighted to announce that Itir Binay from Melbourne, Australia was publicly ordained in Melbourne on 28th March, 2020.
Read More
Ex-Itir becomes Varadhī (last letter long i). Name meaning: She who has the highest wisdom. Westernised spelling: Varadhi
Public Preceptor: Maitripala
Private Preceptor: Chittaprabha
The ceremony was witnessed by over 100 members of our Sangha live on zoom. Here is the link of the recording which ends with a beautiful wave of sadhus around the world.
Sadhu! Sadhu! Sadhu!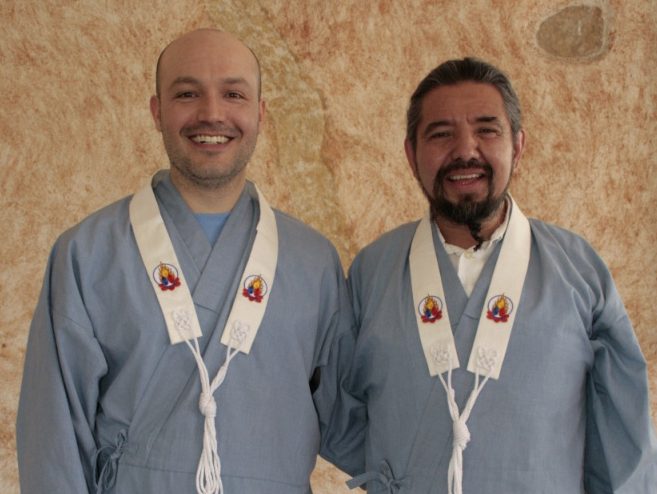 On January 11 at Chintamani Retreat Centre, Mexico, we welcomed two new Dharmacharis into the Order from the Mexico City sangha.
Read More
Ex-Juan Antonio Diaz becomes: Subhananda which means He who has the joy of beauty or él que tiene la alegría de la belleza.
Private preceptor: Samamati
Public Preceptor: Virasiddhi
Ex-Pablo Sierra becomes: Satyabodhi which means Awakening to Truth or El despertar a la verdad.
Private preceptor: Virasiddhi
Public Preceptor: Nagapriya
Sadhu! Sadhu! Sadhu!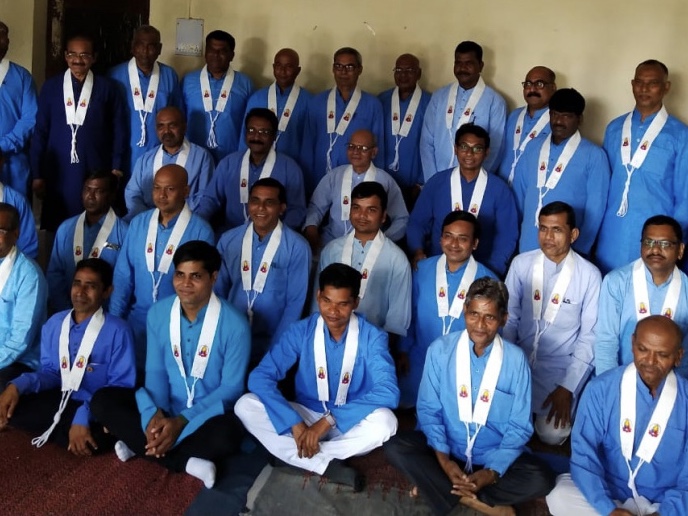 The following men had their Public ordinations on 20th October 2019, at the Hsuan Tsang Retreat Centre, Bordharan, India.
Read More
Public Preceptor: Adityabodhi                                                                                                                
1. Aurn Baburaoji Ingale from Amaravati becomes Vishuddhavacha
Private preceptor: Nagaketu
2. Dilip P. Khadase from Akola becomes Kripaveer
Private preceptor: Lokanath
3. Vinod Mahadevrao Thamake from Wardha becomes Dhirchitta
Private preceptor: Lokanath  
4. Bhimrao Gulab Gade from Pune becomes Dharmaprabha
Private preceptor : Surangam
5. Raju Aba Chandanshive from Pimpri Pune becomes Kushalabandhu
Private preceptor: Surangam
6. Bhagvan Kisan Jondhale from Nanded becomes Samantachakshu
Private preceptor: Chandrabodhi
7. Vishvanath Limbaji Kamble from Pimpri Pune becomes Maitrichandra Private preceptor: Chandrabodhi
8. Kishor Sukhadevrao Maitriveer from Amaravati becomes Sugatananda. Private preceptor: Chandrabodhi
9. Bhalachandra Tambe from Khed becomes Amoghasen
Private preceptor: Yashosagar
Public Preceptor Amrutdeep                                                                                                            
10. Gautam Sukhadas Borkar from Nagpur becomes Pramodaditya
Private preceptor: Amrutdeep 
11. Sandeep J. Rakshit from Amaravati becomes Ratnaraj
Private preceptor: Amrutdeep 
12. Divyanshu Boudh from Nagpur becomes Kshantiprabha
Private preceptor : Amrutdeep
13. Milind Devidas Patil from Amaravati becomes Sucikirti
Private preceptor: Amrutdeep 
14. Vishnupant Kedar from Amaravati becomes Anshulbodhi
Private preceptor: Ratnasiddhi
15. Santapal from Delhi becomes Anshulraja
Private preceptor: Ratnasiddhi 
16. Deepak Tayde from Amaravati becomes Anshulvajra
Private preceptor: Ratnasiddhi 
17. Harendra Kumar from Bordharan becomes Anshulratna
Private preceptor: Ratnasiddhi 
18. Raghunath Nandeshver from Nagpur becomes Buddhadatta
Private preceptor: Nagaketu     
19. Gangadhar Shamraoji Sonone from  Amaravati becomes Kulanishtha. Private preceptor: Nagaketu
20. Prabhakar Daulat Walke from Nagpur becomes Kulachandra
Private preceptor: Nagaketu
21. Krushnarao B. Khobragade from Amaravati becomes Nirajbodhi
Private preceptor: Lokanath
22. Pitambar Ramchandra Gajbhiye from Nagpur becomes Lalitmitra
Private preceptor: Lokanath     
23. Bhimrao Gunaji Wankhede from Nagpur becomes Bodhikiran
Private preceptor: Maitreyasagar    
Public Preceptor Yashogar                                                                                                                         
24. Rahul Pandurang Bhaisare from Bordharan becomes Akshobhyamati. Private preceptor: Amrutdeep
25. Sachin Madhukar Pudke from Bordharan becomes Sanghakumar
Private preceptor: Amrutdeep 
26. Shankarlal from Kanpur becomes Anshulsiddhi
Private preceptor: Ratnasiddhi 
27. Ramesh Sahebrao Dhaotre from Pimpri Pune becomes Prabodhsen. Private preceptor:Surangam   
28. Rajesh Bhimrao Bhange from Nagpur becomes Yashosiddhi
Private preceptor: Maitreyasagar      
29. Dilip Namdev Gajbhar from Dapodi Pune becomes Amritketu
Private preceptor: Jnanadhvaja
30. Kumar Devidas Kamble Yerwada Pune becomes Vinayaditya
Private preceptor: Adityabodhi
Sadhu! Sadhu! Sadhu!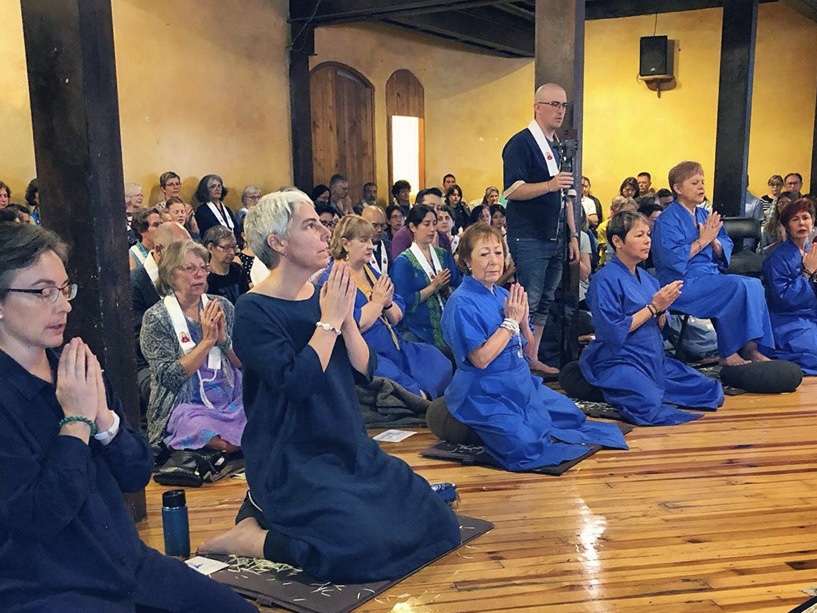 The following women had their Public ordinations on 20th October 2019, at the Buddhist Centre in Mexico City.
Read More
Paula Michelangelli se ha convertido en Abhayasara, nombre Sánscrito cuyo significado es: 'Ella cuya naturaleza es la valentía (de Amoghasiddhi)'. 
Paula Michelangelli becomes Abhayasara, a Sanskrit name meaning 'She whose nature is fearlessness.' (long 3rd and 4th 'a's)
Anglicized spelling: Abhayasara.
Private preceptor Jnanadakini, Public preceptor Parami.
Chela Huerta se ha convertido en Vidyavani, nombre Sánscrito cuyo significado es: 'Ella que está en el Río de la Sabiduría.'
Chela Huerta becomes Vidyavani, a Sanskrit name meaning 'She who is in the River of Wisdom.' (long 1st 'a')
Anglicized spelling: Vidyavani.
Private preceptor Jnanadakini, Public preceptor Parami.
Lupita Honda se ha convertido en Dhammasukhini, un nombre Pali cuyo significado es 'Aquella que es feliz siguiendo el Dhamma.'
Lupita Honda becomes Dhammasukhini, a Pali name meaning 'She who is happy following the Dhamma.' (long final 'i')
Anglicized spelling: Dhammasukhini.
Private preceptor Dayachandra, Public preceptor Parami.
Elsa Cobos se ha convertido en Suryatara, un nombre Sánscrito cuyo significado es: 'La que es radiante como el sol.'
Elsa Cobos becomes Suryatara, a Sanskrit name meaning 'She who is radiant like the sun.' (long 2nd and 3rd 'a')
Anglicized spelling: Suryatara
Private preceptor Dayachandra, Public preceptor Parami
Jo Wace becomes Khasanti, a Pali name meaning 'She who finds peace in the open sky.' 
Anglicized spelling: Khasanti
Private preceptor Taraprabha, Public preceptor Karunadevi
Gail Yahwak becomes Subhramani, a Sanskrit name meaning 'She who has a radiant jewel.' (acute accent above the 's', dot under the 'n' and long 'i')
Anglicized spelling: Shubhramani.
Private preceptor Amala, Public preceptor Sanghadevi.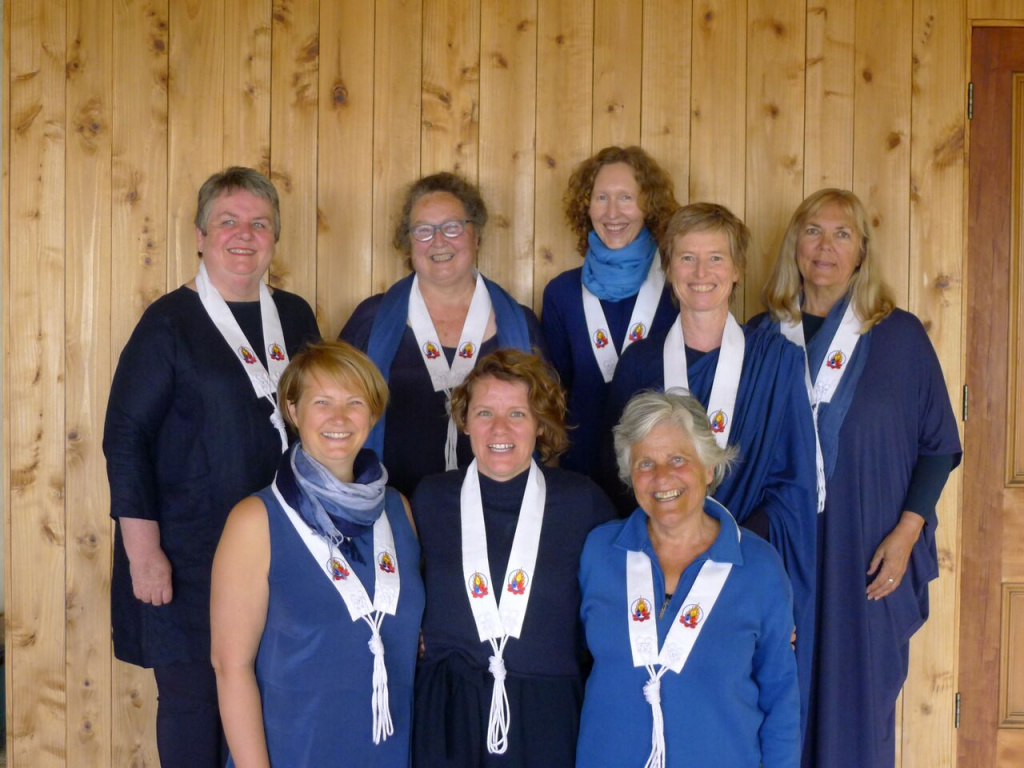 The following women had their Public ordinations on 29th September 2019, at Golden Bay, New Zealand.
Read More
Public Preceptor Varadevi
Judy Gray becomes Padmapuspa (dot under the 's', long final 'a'), a Sanskrit name meaning "(She who is like) a lotus flower".
Anglicised spelling: Padmapushpa 
Malini was her Private Preceptor.
Ainslie Hannan becomes Sraddhanaya (accent over the 'S', long last three 'a's), a Sanskrit name meaning "She who guides to faith". 
Anglicized spelling: Shraddhanaya
Megha was her Private Preceptor.
Kate Ewing becomes Maitrikirti (long second and third 'i'), a Sanskrit name meaning "She who is renowned for her love". 
Vajrajyoti was her Private Preceptor.
Public Preceptor Malini 
Maree Beverland becomes Suvarnadhi (long last 'i'), a Sanskrit name meaning "She whose wisdom is like gold". 
Malini was her Private Preceptor and Vidyamala was the Giver of the Name.
Prue Treadwell becomes Prasantacitta (accent over the 'S', long second and last 'a'), a Sanskrit/Pali name meaning "She whose heart is calm".
Anglicized spelling: Prashantachitta.
Varadevi was her Private Preceptor.
Kirsten Gracie becomes Priyada (long last 'a'), a Sanskrit name meaning "She who gives love and kindness".
Chittaprabha was her Private Preceptor.
Public Preceptor Vajrajyoti
Helen Clack becomes Vajrasarasi (long last 'i'), a Sanskrit name meaning "She who is like a vajra and a lake".
Akampiya was her Private Preceptor.
Public Preceptor Megha
Sam Sammut becomes Sraddhanita (accent over the 'S', long second and last 'a'), a Sanskrit/Pali name meaning "She who is guided by faith".
Anglicized spelling: Shraddhanita.
Varadevi was her Private Preceptor.
With metta and much rejoicing,
Vajrajyoti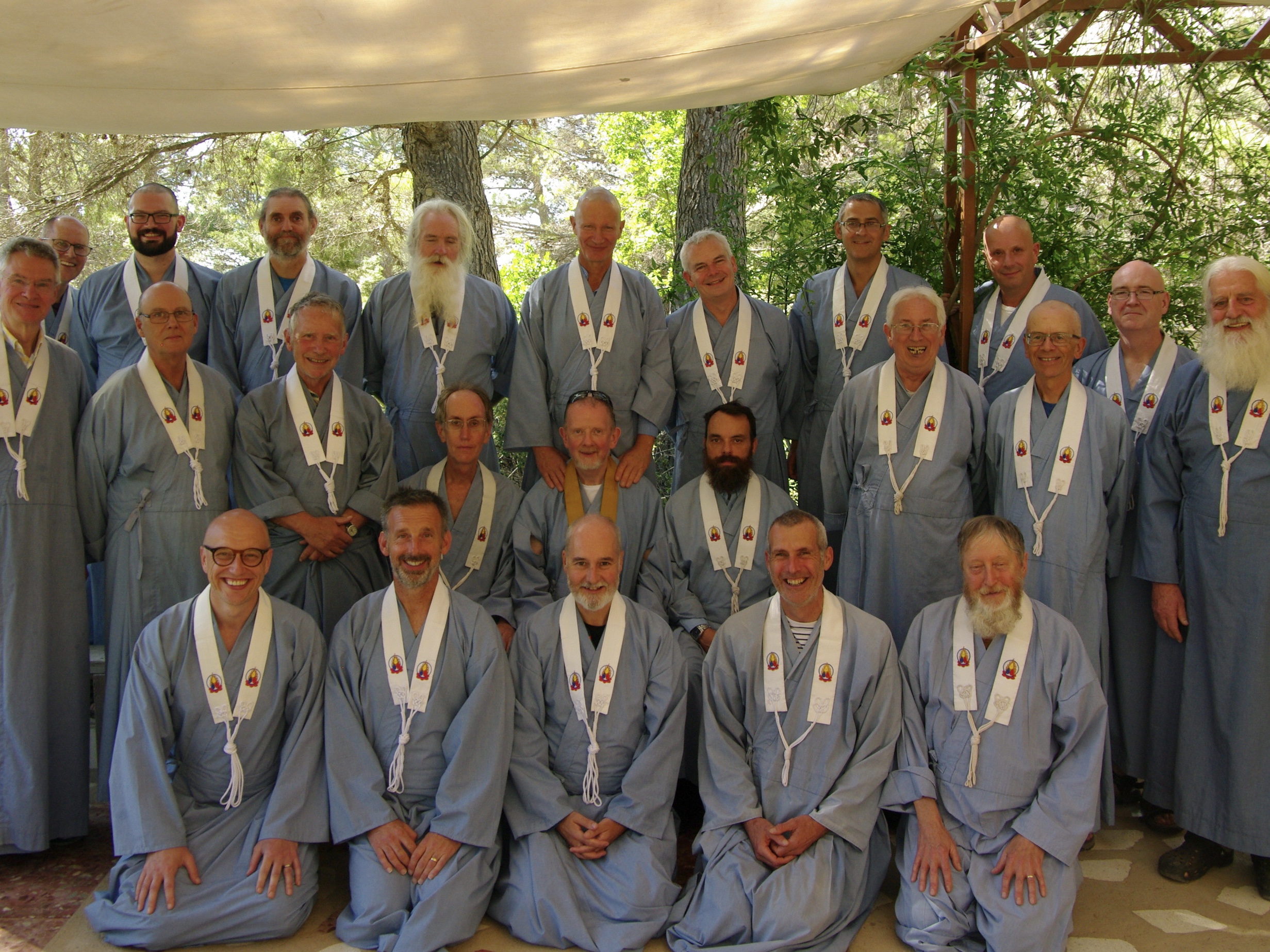 The following men had their Public ordinations on 24th September 2019, at Guhyaloka, Spain.
Read More
Public Preceptor Mahamati
Paul King becomes Viryamati, a Sanskrit name meaning "He who has energy and resolve"
Private preceptor: Swadipa
Gary Murray becomes Aryasara, a Sanskrit name meaning "He whose nature is noble"
Private preceptor: Srikirti
Frederic Rosset becomes Pavaka, a Sanskrit name meaning "He who is pure, bright, shining (like a fire)"
Private preceptor: Lokesvara
Steve Howe becomes Sanghamuni, a Sanksrit name meaning "Sage of the community"
Private preceptor: Khemadhamma 
Public Preceptor Arthapriya
Mark Melbourne becomes Jyotida, a Sanskrit name meaning "Giver of light"
Private preceptor: Paraga
David Tyfield becomes Ketumati, a Sanskrit name meaning "He who has a mind like a comet"
Private preceptor: Buddhashanti
Paul Mason becomes Prajnavaca, a Sanskrit name meaning "He who has the voice of wisdom"
Private preceptor: Pramudita
Ian Hannah becomes Ajitamati, a Sankrit name meaning "He who has a mind which is unconquered"
Private preceptor: Buddhashanti
Sion Williams becomes Amita, a Sanskrit/Pali name meaning "Unbounded"
Private preceptor: Tejananda
Billy Frugal becomes Nagakushala, a Sanskrit name meaning "He who has the skilfulness of the nagas"
Private preceptor: Samanartha
Will Elworthy becomes Kamalavajra, a Sanskrit name meaning "Lotus vajra"
Private preceptor: Paraga
Sadhu! Sadhu! Sadhu!
The College is delighted to announce that the following have recently become members of the College.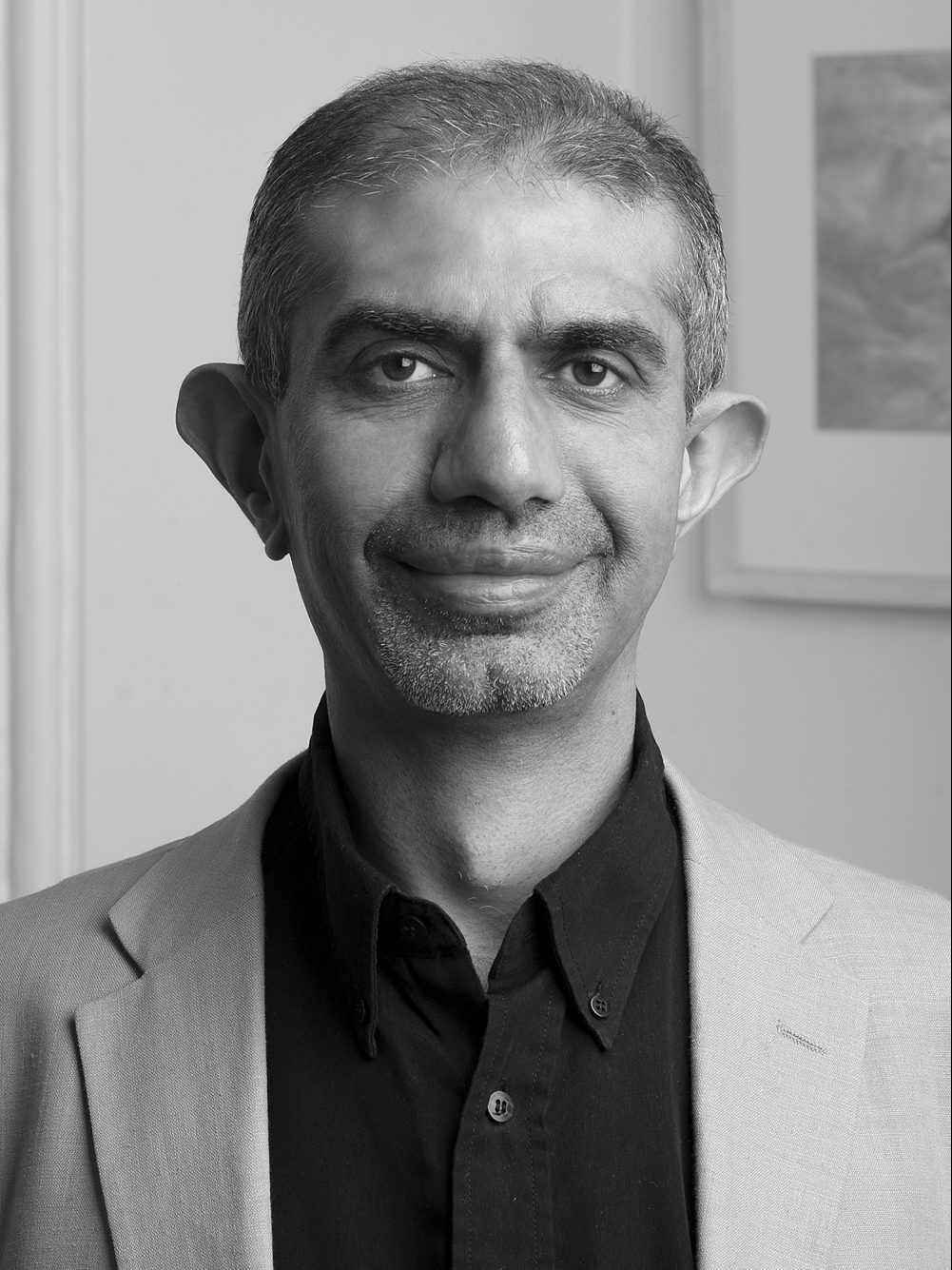 Read More
I was born in Mombasa, Kenya in 1965 to Indian parents. I have no real memories of Africa as we moved to London when I was two.  The sudden death of my father when I was eleven accelerated my questioning about the meaning of life, and in my early teens I decided I was a Buddhist. However I had almost no idea of what Buddhism was apart from what I had gleaned from a few popular books on Zen.
I studied physics at University – looking for answers to the big questions. I also tried to practise with a Zen group while I was a student – mostly trying to be mindful and have a routine in my life.  I soon realised that physics wasn't going to provide me with the answers I was looking for, and my attempts to practice Zen Buddhism left me disheartened and feeling that I lacked the determination and discipline that was needed.  After graduating, I decided that my spiritual questioning was going nowhere and that I should get a 'real' job. So I ended up working for Marks and Spencer in their I.T. department. I can remember feeling lost and disillusioned and that I'd betrayed my ideals.
It wasn't until 1994 when I was 28 that I came across the London Buddhist Centre and it was after my first retreat the Christmas of that year (led by Maitreyabandhu and Ratnadharini) that I realised that the Dharma was something I could really practise. 
Soon after I moved into one of the LBC communities started by Maitreyabandhu and Paramabandhu (where I have lived ever since).  I started working for the LBC in 1998 as a (not very good) fundraiser having finally found the courage to leave my job in the corporate world.  I was ordained in 1999 by Subhuti at the Bordharan retreat centre near Nagpur, India. It felt completely right at a mythic level to be ordained in India and to have my public ordination fall on the anniversary of my father's death twenty-two years previously.
Back at the LBC I took on being the Treasurer and a few years later, the men's Mitra Convenor. For nine years from 2009 I was the Chair of the LBC which was both demanding and fulfilling – particularly the phase during the building of the new Vajrasana retreat centre.  I handed on that role to Suryagupta in 2018 and shortly afterwards went on a 6 month solitary retreat – possibly the happiest period of my life.  I am President of the Cambridge Centre and am currently co-writing a book with Maitreyabandhu on 'Insight in our System of Practice'.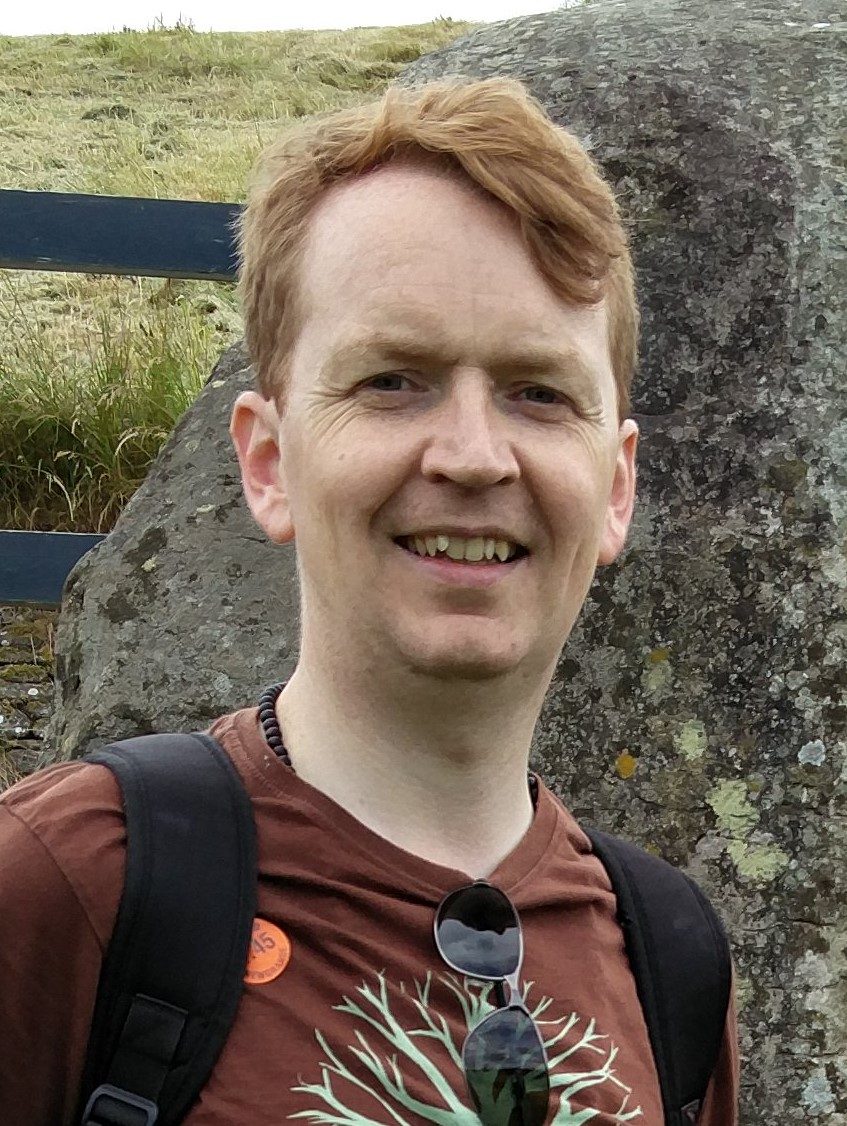 Vajrashura
Dublin, Ireland
Read More
I first came across Triratna (then the FWBO) in Dublin, Ireland, in 1999, at the age of 22. After being convinced by a friend, I learned meditation from Ratnabandhu of the Dublin Meditation Centre and really enjoyed it. A little while later I realised I was a Buddhist, and that without some deeper meaning in my life I would continue to live existentially adrift and feel unfulfilled. I was particularly struck by the clarity of Bhante's expression of the Dharma. I was finishing my studies in Theoretical Physics in Trinity College Dublin, but decided to leave my Ph.D. unfinished and look for something more meaningful.
In 2002, I had a very significant time participating in a Karuṇā door-knocking appeal in London, and once back in Dublin I became a Mitra and asked for ordination, started working for the Dublin Buddhist Centre as Centre Manager, and moved into a new men's residential community.
I very much enjoyed the ordination process and was ordained in 2007 in Guhyaloka, my Private Preceptor being Kulananda and my Public Preceptor being Saddhaloka.
In 2009, I became the Men's Mitra Convenor for Dublin, a role I have loved doing and still do to this day. It's a very pure experience of being able to help people to connect with and grow in the Dharma, and the friendships that are formed are meaningful indeed. In 2018, I became a Private Preceptor, and I continue to work closely with the ordination team in Padmaloka to help men in Ireland prepare for ordination.
I recently started working for the Sikkha Project on a part-time basis. I still live in a men's community and enjoy that very much. I am happy to be part of the College so that I can support the continued development and growth of the Triratna Sangha, particularly in Ireland.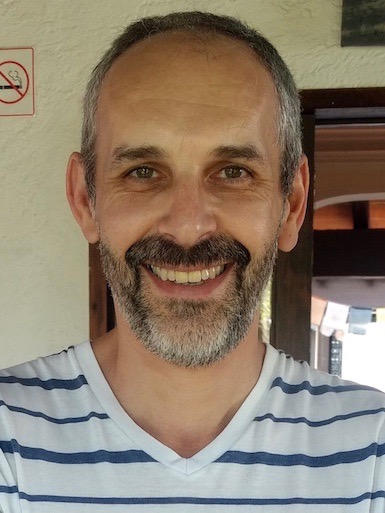 Nagapriya 
Cuernavaca, Mexico
Read More
I first met Triratna in Leeds, England in 1988.  I was studying for a degree in philosophy and was, so it seems now, searching for the meaning of life. I quickly realized that I had found my spiritual home and, after moving to Manchester, I was ordained in 1992. I worked for some years at the Manchester Buddhist Centre and then at Dharmavastu Study Centre.
After a period of academic study and work, I moved to Mexico in 2013 and, somewhat inadvertently, co-founded Centro Budista de Cuernavaca of which I am current and founding Chair. I also ended up as the director of Editorial Dharmamegha, a project dedicated to publishing Sangharakshita´s and other Triratna works in Spanish. I got involved in the men´s ordination process in Latin America shortly after arriving in Mexico and form part of the ordination team.
There is huge potential for Triratna in Latin America and I feel privileged to be able to contribute to this process in some small way. Mexico particularly seems a receptive field for the Dharma and our sangha here is growing rapidly.
My published works include: Exploring Karma and Rebirth (Windhorse, 2003), Visions of Mahayana Buddhism (Windhorse, 2009), and The Buddhist Way (New Holland, 2018).
Remembering former College Members who have died in recent years.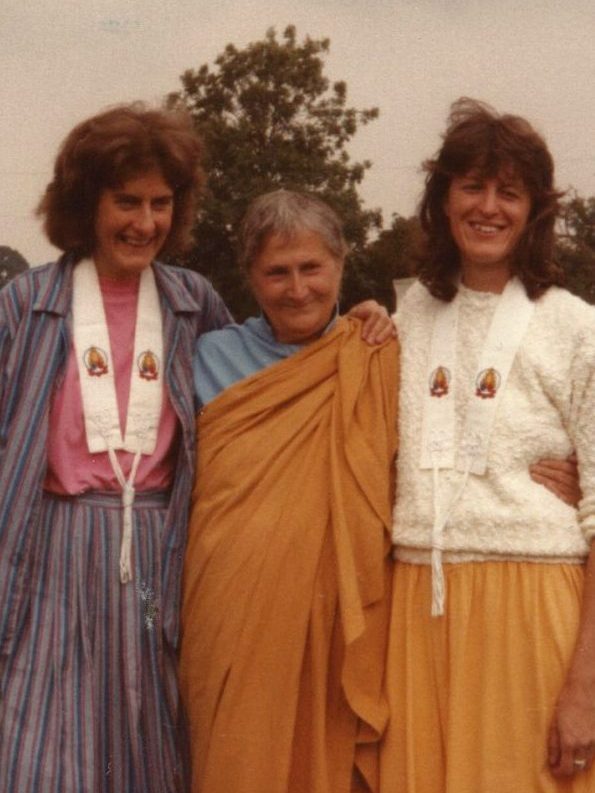 Dharmacharini Anagarika Ratnasuri
1 April 1923 – 13 September 2019
Read More
Ratnasuri was born on 1 April 1923, in Norwich, one of triplets. She and one sister survived – after a difficult start; they were so small they had to be fed by their parents with a dropper from a fountain pen. They joined a family that included a brother and another sister. Their father was a tailor. He made the family's clothes and they were always smartly dressed. Having such a talented father is perhaps where Ratnasuri's love of art and design started. At thirteen, she went to junior art school and enjoyed drawing, painting, dress design and poster design. At sixteen, she did an apprenticeship as a window dresser in a very smart Norwich department store, but any dreams of progression were abruptly halted by the outbreak of the Second World War in 1939. In 1942, at nineteen, she decided to join the war effort. She said later, "I really wanted to defeat Hitler!" Her boss at the department store was furious, but Ratnasuri had bigger concerns.
All who experienced the war witnessed the fragility of life, but perhaps especially those who saw conflict directly. Ratnasuri worked in the anti-aircraft battery guiding the guns and the men firing them. One night in Antwerp, after a frightening overhead air-raid, she set off to meet a boyfriend and found out he had been killed in a direct hit.
Ratnasuri was already looking for some deeper meaning to her life, but like many women she ended up getting married and settling down. Her marriage wasn't a happy one, but she did have two sons, Kevin and Peter, who she loved and cherished. She found employment doing quality control in a chocolate factory and as a lab technician for the Milk Marketing Board. The years passed and the children grew up.
In her mid-fifties, having left home, Ratnasuri took up yoga with Sona. Through him she started to read books about Buddhism. She also came across the magazine Mitrata, which was produced in Norwich by Srimala. Ratnasuri started attending classes at the Norwich Buddhist Centre. Typically, she threw herself into the sangha with youthful verve, even though, being in her fifties, she was regarded as 'old' by younger members. Eventually she was going to every class the centre offered! She worked with Aloka and other Order Members in the wholefood café, Rainbow, latterly Oranges. She had been involved for two years when she became a mitra. It was five years after first coming along to the Norwich Centre when, in 1983, she was ordained, alongside Ratnavandana and Ratnadakini. She was given the name Ratnasuri, which means 'Heroine of the Three Jewels'. At sixty, most people are thinking about retirement. Ratnasuri was just getting started!
After ordination, she lived and worked around the Croydon Buddhist Centre for a year. Then, in 1983, the women members of the Western Buddhist Order decided to hold a month-long intensive retreat on the Isle of Muck. There were just twenty women Order members at the time and they joked on the journey that if the ferry went down on the way to Muck, that would be it for the women's wing of the Order! Fortunately, it didn't. On the retreat Sanghadevi announced that she wanted to set up the FWBO's first women's retreat centre and wanted someone to go with her. Guess who put up their hand and volunteered?
So at sixty-two years old, Ratnasuri found herself going down the long, bumpy track to Cornhill Farm, Shropshire, now known as Taraloka. There were four women who were the founder members of the Taraloka community: Sanghadevi and Ratnasuri and the mitras who would become Karunasri and Kulanandi. The fifth member was Ratnasuri's cat, Tansy. It wasn't easy; they were pioneers, and pioneers in boiler suits and hard hats as well, having to undertake much of the restoration work on the old farm themselves. Ratnasuri cooked valiantly for everyone on a camping gas stove, frequently with bits of ceiling falling in the food! She also co-led many of the meditation retreats with Sanghadevi.
Not long after moving to Taraloka, Ratnasuri became an 'anagarika'. This meant following the example of the Buddha by committing oneself to a simple life where one does not pick and choose; and also taking vows of celibacy. At her ceremony she wore the orange robes that symbolically connect with the Buddha and his early followers, a tradition stretching back over 2,500 years.
But Ratnasuri's heroism didn't stop there. In 1987, while on retreat at Taraloka, Ratnasuri received a phone call from Srimala. She told her that Sangharakshita's mother was ill so he couldn't go to India to conduct ordinations as planned. Now he wanted to ask if Ratnasuri would go with her, Srimala, to India to conduct the first ordinations of Indian women along with Padmasuri, who was living there. Ratnasuri was startled, but she couldn't mention it to anyone. A retreatant commented to her, "Something happened to you on that retreat!" and she thought, "If only you knew!" Having never been to India before she was scared by the prospect and wondered how she would cope with speaking in front of so many people. But she told herself, "I get nervous speaking in front of five people, what difference does it make if there's five hundred?" So, aged sixty-four, she went to India to conduct the public ordinations of Jnanasuri and Vimalasuri. As an anagarika, she wore her orange robes for the ceremony, which would have been a powerful visual symbol about women's spiritual potential for the Indian community.
The ordinations of the women in India were conducted 'on behalf of' Sangharakshita. Two years later he asked three senior women Order members to perform ordinations acting now 'on their own responsibility' – a very significant development for the Order. Srimala, Sanghadevi and Ratnasuri were the first women private preceptors acting in this way. But it was Ratnasuri who was asked to perform the public ordinations. In summer 1989, on a retreat at Taraloka, she received into the Order Cittaprabha from Sydney. A few weeks later, on 11 September, another six women received their ordinations. These were historic events, not only for the Western Buddhist Order, but for the whole Buddhist world where full ordination of women – a lineage started by the Buddha himself – had long since largely died out. Because Sangharakshita was able to entrust her with this responsibility, and she was willing to take it on, Ratnasuri opened the door for a new ordination lineage of women ordaining women to come into being. She went on to ordain many more women into the Triratna Buddhist Order. As a preceptor she privately and publicly ordained 45 women in total, as well as being a kalyana mitra or friend to countless others.
Ratnasuri was a lover of meditation and as well as living in the community at Taraloka, she took part in many retreats held there. She was frequently the oldest in community situations, but her joie-de-vivre and youthful spirits belied that. During all this time, she maintained her love and inspiration for the arts. She was a poet and a photographer. She loved relaxing to classical music in her reclining chair. And she was a print-maker, making prints from her own woodcuts.As well as her passion for creativity, meditation and friendship, she was a lover of technology and could be seen at the Genius Bar of an Apple Store whenever she got a chance!
At the end of 2005, Ratnasuri had a huge shock. She was celebrating a birthday in the Taraloka community when she had a phone call to say that her son, Peter, had died. His death was a great loss to Ratnasuri. Previously, she had been suffering with anaemia and later confided that had she still been anaemic, the shock might have killed her. Characteristically she responded to old age and anaemia by taking up the Vajrayogini meditation practice because "I needed more blood" and to "let go more". She could be seen frequently at Order events manifesting the dakini energy on her pedal scooter!
In 2014, she made the decision to leave Taraloka, her home of nearly thirty years, and move into sheltered accommodation in nearby Wrexham. A retreat centre is a busy place to live and, aged ninety-one, she was ready for a quieter, more reflective life. She also relished the idea of shopping and cooking for herself, going about town, having adventures. Unfortunately, her eyesight was deteriorating quite rapidly due to macular degeneration, so she couldn't be as independent as she would have liked. One of the hardest things about sight loss, she said, was not being able to see the faces of her friends.
In 2019, it became clear that independent living was no longer viable for Ratnasuri, even though her friends, carers and the Taraloka community had helped considerably. With their help, she moved into a residential home in Wrexham with her beloved budgies, who gave her so much joy.
'Ratna' means jewel and Ratnasuri was a kind, generous, creative and multi-faceted person. 'Suri,' means heroine: she broke down barriers of what it means to be a woman Buddhist in the west and what it means to practise the Dharma in mid to old age.
She leaves behind an Order with a flourishing women's wing, and a lineage of women's ordinations that she helped inaugurate. She leaves behind many devoted friends and admirers, and her son Kevin. She will be sadly missed.
Dharmacharini Kamalagita, 17/09/19